Bill Adair has been traveling the globe for years with tennis as his only compass.
From the dry, clay courts in Kobe, Japan to the lush, green courts of Punta Mita, Mexico, Bill has seen it all when it comes to the game. His seasoned travels and ability to always have a racquet in his hand has not only designated him the "Tennis Tourist", but also a trusted resource for tennis travel and destinations.
After learning Bill was the real deal, and that he ran his own tennis club in the past, we wanted to know more about the ability of court aesthetics to attract players, and what players actually want out of courts and facilites. Here's what the Tennis Tourist had to say.
What attracts tennis players to one facility versus another?
Well, tennis is the kind of game you need someone to play with, so the programs that the facility or community offers is very important. The key to that is the Pro or organization that's running it. I personally often choose to play at a facility that's actually further away just because we can always fix a game, there are doubles programs, and they have that reputation and buzz.
Aesthetics are important. The shape of the courts are important. One of the features we enjoy is the scenery, and some serenity. The scenery around the courts makes a big difference. In Punta Mita, we played in the middle of a jungle and that was a beautiful experience. It's nice when there's energy too, but the setting of the courts is a big factor. Things like benches, comfortability, and if there's water or shade comes into play as well. Fencing and lighting also make the visual effects of the game that much better.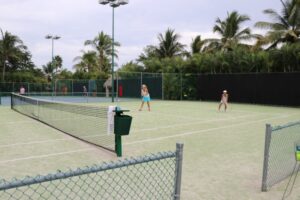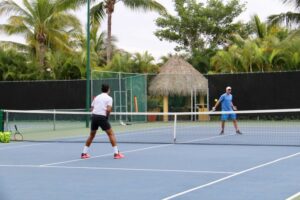 How much do court colors make a difference in aesthetics?
It seems everyone has gone to that bluish purplish color now. We just had our courts resurfaced and freshly painted this summer at our facility. Some people said it's almost too much because the colors are so vibrant, but it fades to a more natural color. The appearance of the court makes a big difference. Some public courts are so faded you can barely see the lines and the surface is almost worn down to the asphalt. It looks pretty ragged and it's a big deterrent.
Another factor is the consistency of the surface. When you're playing the game, it's important you're not getting any crazy bounces or skids, especially when the courts start getting cracks in them.

What kinds of repairs keep courts looking fresh and attractive?
Maintaining courts is really important, things like clearing leaves and puddles from rain. If you let your courts go and the cracks start spreading or leaves start building up, it costs more in the long run to keep them that way. It's really about protecting your investment.
What small things turn players off?
Lack of Repairs
Holes In Fencing
Torn or Fallen Windscreens
Ragged or Broken Nets
Sagging Nets
What do tennis players consider when choosing where to play?
Court alignment is important. Ideally courts would face north-south, but some face east-west. If you're playing at the end of the day as the sun is getting lower, it makes a big difference if the sun is shining right in your eyes.
The surface too. Is the surface rough or worn? People prefer to play on a newer surface rather than one that is uneven and beat up.

Top advice to attract players?
Make sure the courts are in good repair, that includes the surface, fencing, and back screening
Offer proper seating at the courts, include water and shade
Off the court, is there any sort of pro shop or lounge area for players?
Do you have concierges or assistant pros down at the courts to look after the players?
Most beautiful court you've played on?
The most beautiful would be in Punta Mita, Mexico at the Four Seasons Peter Burwash facility. We were on a tropical peninsula and the courts were surrounded by an exotic jungle setting.
The best experience was in Cordoba, Argentina. We played on a clay court on top of a parking garage with a few friendly strangers, and had a courtside BBQ after.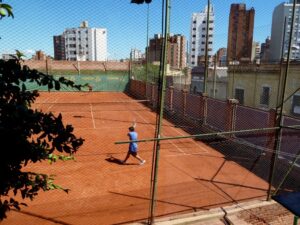 When you go to a strange place, if you have a tennis racquet in your hand, no matter what the language is, you instantly have a bond with the people you meet there and that's a pretty cool thing.
To see more of Bill's tennis adventures, visit TheTennisTourist.com!