In the 1970's, tennis was booming. New television culture allowed high profile games to be viewed by the masses and the popularity of tennis clubs and facilities was on the rise. Players like Ashe, Connors, and McEnroe were fundamental to the rise with drama, rivalries, and pop-icon status. By the mid 70's, tennis was an essential element of "the good life".
Meanwhile, in the suburbs outside of Baltimore, Dennis Rossi, a recent law school graduate, and his wife Perry Rossi, daughter of a successful politician and businessman in the paving industry, decided to purchase a small line-striping company formerly known as Zone Marking.
While their new venture existed on the foundation of pavement maintenance since 1945, Dennis and Perry recognized that the future was courtside, in the world of tennis. American Tennis Courts was born, a tennis court construction and maintenance company.
With just two trucks and only two crews, Dennis began cultivating relationships with municipalities and local governing corporations that still remain valued customers to this day. As the game grew, so did American Tennis Courts. After reaching seven full-time crews, the Rossi's moved their headquarters to a property outside of Baltimore City and began manufacturing their own materials, mainly the acrylic color that you see on tennis courts.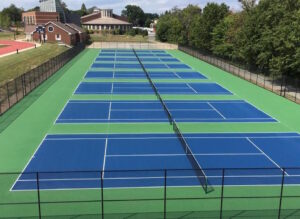 Surprisingly, starting a whole manufacturing division wasn't the biggest milestone Dennis and Perry had achieved.
As Dennis was rounding up interest in his new manufacturing division in surrounding states, he realized the biggest problem contractors had with tennis courts was cracks. The extreme season changes in the mid-Atlantic region create perfect conditions to forge and exacerbate cracks in court foundations.
In 1990, Dennis developed and patented Premier Court, a composite that provides an impact-absorbing court immune to cracks, and reduces repetitive body shock and stress. It was used in a number of major tournaments such as the Davis Cup and WORLD TEAMTENNIS, and endorsed by pro athletes such as Jim Courier and Billie Jean King.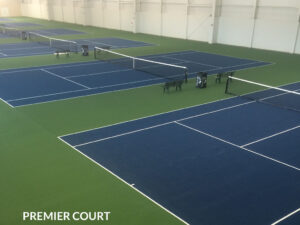 Manufacturing and Premier Court were two major drivers in growth and success over the next 15 years. American Tennis Courts expanded and thrived with loyal employees, including their children, who now run the business.
"One thing that has remained constant from the beginning in 1974 is the stability of our reputation. Our greatest success is the teamwork of our employees. They care and have an interest and desire to do a good job and make sure that each court and each track turns out the very, very best. That's a reputation that only time gives you.
"Henry Ford said, 'Coming together is a beginning, keeping together is progress, working together is success.' I believe our greatest strength is our ability to come together and focus on a shared goal. We have been so blessed to have such good people devoted to the success of our business," says Perry Rossi, President.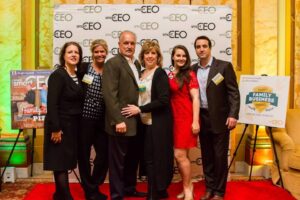 In 2014, American Tennis Courts sold its manufacturing division and Premier Court to the #1 manufacturer of tennis court materials in the world.
Today, ATC CORP (formerly American Tennis Courts) is the largest tennis court contractor in the U.S. Their new branding is meant to reflect a complete and turnkey variety of services that include construction and maintenance of sports surfaces, from clay courts to tracks, and a full paving division that includes thermoplastic application and seal-coating.
"The thing that I get most excited about looking to the future is our minority paving division. We have saw-cutting, thermoplastic application, and to be able to finish the job with patching rounds out the paving division. It's so vital to the success of ATC CORP, and it's also important to our sports customers that we provide turnkey work, beginning to end," says Rossi.
What started out as a small paving business is now pioneering the way in the construction and renovation of sports surfaces and pavement maintenance in the United States.
In Loving Memory
Dennis T. Rossi 1942 – 2012